Margaret Hamilton AM tribute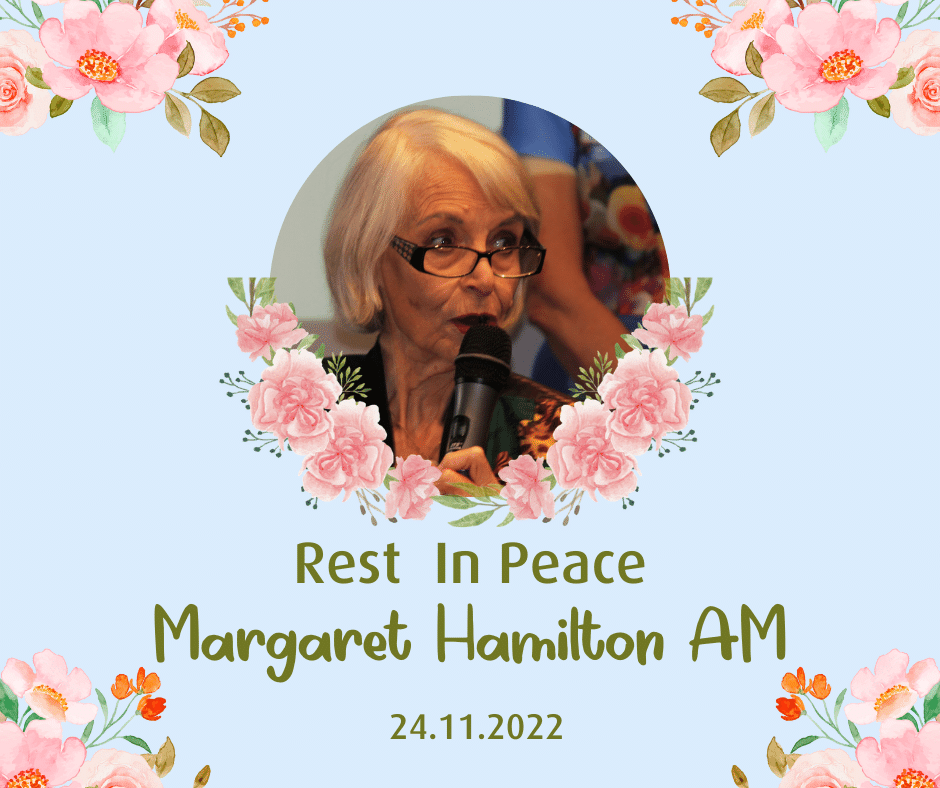 From the Children's Book Council of Australia Chair, Wendy Rapee.
On November 24, 2022 we lost one the Children's Book Council of Australia's foundation stones—Margaret Hamilton AM. Margaret has been our guiding light, our fiercest advocate, our cheer leader, and our intellectual powerhouse. Both the Book of the Year Awards and the CBCA Awards Foundation have grown in stature because of her dedication and unwavering service. The Australian publishing community, and specifically our children's literature creatives, have been nurtured, mentored and inspired by her razor-sharp mind and focus on producing quality stories for our young Australians. Her legacy is enormous and the CBCA is mindful and dedicated to our responsibility in ensuring its care. Margaret will be missed by us all.
On a personal note, as the Chair, I am most grateful to have called Margaret a dear friend and mentor since we met as colleagues at Scholastic in 2002. The loss is painful, but I acknowledge her calm and graceful guidance and will always have her tapping me on the shoulder reminding me of the importance of our work at the CBCA.
In June this year at our CBCA National Conference dinner, the Chair of the Awards Foundation, Julie Long presented the following speech as Margaret was honoured as a Benefactor of the Awards Foundation.
Ladies and gentlemen, distinguished guests. In our midst this evening is a woman of particular creativity, vision and passion. She didn't grow up a reader. She didn't know what she wanted to do when she grew up. Opportunities came her way in life and rather than seeing them as challenges, she accepted them with creativity, vision and passion. She left school and applied for a job at Parramatta City Library and began there as a library assistant. She discovered that she loved children's books and enjoyed relating to the children who came into the library after school. Soon she was training and studying to become a qualified librarian and developing a real interest in specialising in children's librarianship. She was attending lectures at Sydney University and was totally inspired by Maurice Saxby, a lecturer at Kuringai College and at the time president of the fledgling CBCA NSW Branch. Maurice said to her 'You must come to a CBCA meeting'. So she went. The inaugural meeting of the National organisation was held on 1 May 1959 – at School Library Services in Sydney, with Maurice Saxby as president. The first official National Children's Book Week was held in July 1959, with the slogan Let's Look at Books. Back then, if you were female, the prize for winning the book of the year was a camellia or a handshake if you were a man.

By the time she qualified as a librarian (one of only two people in Australia to achieve a high distinction in the children's literature component), she was ensconced in the CBCA NSW committee. She rose to become the Children's Librarian at Parramatta, at a time when it was the largest public library in NSW. She was passionate about setting up Book Week displays and talking to the children. It was while she was at the library that she began reviewing for Reading Time, the quarterly reviewing Journal for CBCA. She continued this for many years and then took on the big job of doing their first cumulative index. In fact, this work was one of the reasons she was later offered a job in publishing – she was known as someone who knew a thing or two about children's books! Eleven years at the library had given her a head start and a firm base for her knowledge of children's books. She left to run the children's department in a bookshop. It was one of the first bookshops to hold promotional events for children's books and it was there that she experienced first-hand the commercial interest in the annual announcement of the CBCA Winning books. She passionately promoted them to customers. Her next job was with Hodder and Stoughton Publishers as production manager, without knowing anything about what that task entailed. She soon became a director on the Australian board of the company – the only female. She set about making her presence felt and although she was responsible for the entire publishing program, her passion was always children's books and her vision was to be the leading publishing house for children's books. At the same time she continued to work on the NSW CBCA committee.

By the time she left Hodders in 1987 they had a thriving children's list with authors consistently winning CBCA awards for fiction. She went on to create her own publishing house, with her husband as a full-time partner. They were one of the few publishers specialising in children's books and were thrilled that one of their first picture books The Very Best of Friends by Margaret Wild and Julie Vivas, was the CBCA Picture Book of the Year. This set a trend of regular appearances in the annual CBCA Children's Book of the Year awards lists. In 1996, her publishing house became a division of Scholastic Australia. One of the comments, when they were negotiating for this to happen, was 'there doesn't seem to be a year when you haven't had a book on the CBCA Shortlist'. This gave her an enormous boost because she could see that Scholastic was a company whose entire staff was devoted exclusively to children's books.

Throughout the life of the Awards, a number of valued sponsors assisted with funding the monetary prizes. The challenge to secure commercial sponsorship for the Awards prize money led to a decision, at the end of 1995, to set up a CBCA Awards Foundation with the aim of raising $1 million to enable the CBCA to support the Book of the Year Awards prizes in perpetuity. It was the vision of this woman and her good friend June Smith. They presented the proposal, which was accepted and were appointed managers of the CBCA Awards Foundation and heads of the National CBCA Awards Foundation Committee. To many it seemed like an impossible goal, but they had overlooked this remarkable woman of creativity, vision and passion.

What followed was a decade of creative fundraising. Raffles, silent auctions, CBCA branded mugs, illustrator T-shirts, decorated bears, campaigns to honour prominent authors and illustrators in Memoriam. It was this person's task to approach Publishing Houses and ask them to be either Major donors or Benefactors. Their respect and admiration for her lead to them agreeing. Scholastic led the way with a $50,000 donation, then she challenged others to follow suit. She was friends with Patrick Gallagher, of Allen & Unwin and he donated $10,000.

The future of the Awards is now secure, but diligent financial management and growth of the capital investment with further donations are vital, to ensure their ongoing viability. Prizes for the CBCA Book of the Year Awards are now funded from the interest earned by the investments of the CBCA Awards Foundation. The fund is now up to $2 million because of this woman's push to keep fundraising. She is part of a Committee of Responsible Persons that oversees the growth of the funds and ensures that the money is available for the Awards each year.

The CBCA Book of the Year Awards ceremony has indeed come a long way from the early days of a camellia or a handshake. In 2008 it was a significant recognition when this woman received an honour in the Order of Australia awards 'for service to the arts through the promotion of children's literature and literacy and through support for authors and illustrators'. There is no doubt at all that this person has voluntarily provided her personal resources of creativity, vision and passion to the work of the CBCA Awards Foundation over many years and continues to do so. Thus, it gives me the greatest pleasure to announce that Margaret Hamilton AM is to be named as a Benefactor of the CBCA Awards Foundation.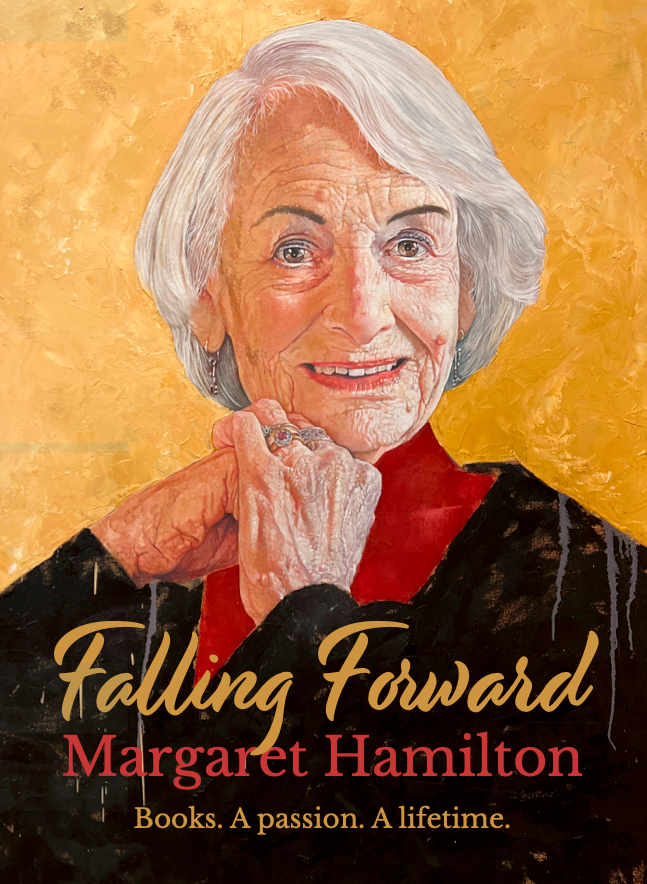 'Falling Forward' by Margaret Hamilton AM, published by West Words
Read the lovely tribute to Maragret published in Books&Publishing, 30 November.