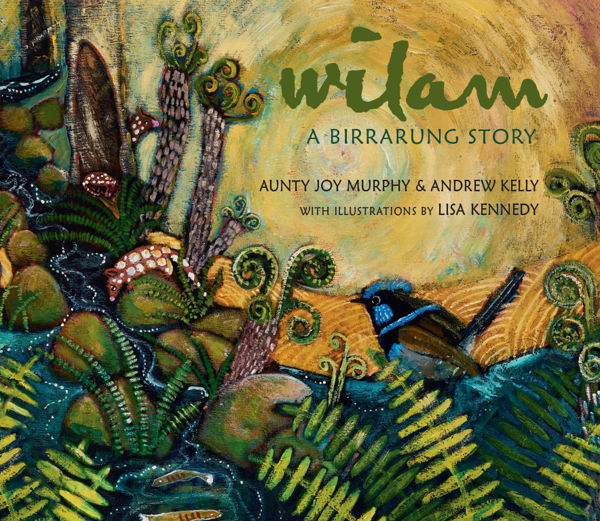 Author: Aunty Joy Murphy & Andrew Kelly
Illustrator: Lisa Kennedy
Publisher: Walker Books Australia
ISBN: 9781925381764
The publisher says...
In this stunning picture book beautifully given form by Indigenous artist Lisa Kennedy, respected Elder Aunty Joy Murphy and Yarra Riverkeeper Andrew Kelly tell the story of one day in the life of the vital, flourishing Birrarung (Yarra river). As ngua rises, Bunjil soars over mountain ash, flying higher and higher as the wind warms. Below, Birrarung begins its long winding path down to palem warreen. Wilam – home. Yarra Riverkeeper Andrew Kelly joins award-winning picture book duo Aunty Joy Murphy and Lisa Kennedy to tell the Indigenous and geographical story of Melbourne's beautiful Yarra river, from its source to its mouth; from its pre-history to the present day.
The CBCA judges say...
Wilam, meaning 'home' tells the story of 'Birrarung', the Yarra River. Bunjil, the wedge-tailed eagle, creator spirit of the Wurundjeri people, oversees the journey of the Yarra River from the natural habitats at the start of the river down to the urbanised habitats of the bay. Throughout the journey, the flora, fauna and life that calls the Yarra River home are captured in the details of both the written and illustrated story, with eye-catching accuracy in the illustrations and descriptions of animalistic behaviour. Each read is sure to elicit new findings that previously went unnoticed as readers pore over the beautiful illustrations that reflect modern Aboriginal art styles. Visual and verbal narratives are expertly interwoven, as is the integration of Woiwurrung language into the English text. A glossary for translation is provided, with the Aboriginal words set out according to the page they occurred on in the story for easy reference. This format is highly engaging and encourages re-reading which will further enhance understanding. The overall production is highly professional, with artistic endpapers and a stunning front cover that any young reader would want to explore.
Our Reading Time reviewers say...

Click here to read the Reading Time review
Teaching Notes for the book…
The publisher has generously made teaching resources available for this book. Click on the icon below to view these resources.