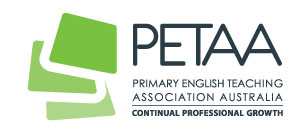 The CBCA is pleased to announce a new partnership with the Primary English Teaching Association Australia (PETAA).
CBCA and PETAA both recognise the importance of the continuing development of quality Australian children's literature and acknowledge the critical role it plays in teaching children to read and write. To assist in that endeavour, PETAA and CBCA have identified several opportunities to support each other in their missions, and to help connect their respective members to a wider array of services, resources, and professional learning opportunities.
CBCA National Chair, Professor Margot Hillel OAM said, "We are delighted to work with PETAA to ensure we continue to engage the community with literature for young Australians. Primary school educators play a critical role in developing children's literacy and fostering a love of literature in the early years of education."
PETAA General Manager Wendy Rapee described the CBCA as a respected and vital voice in recognising and celebrating quality children's literature through its many initiatives, particularly the Book of the Year Awards.
She believes the partnership will enable greater collaboration between the two organisations, uniting the CBCA's wealth of knowledge on children's literature with the PETAA's expertise on how to best teach literature and incorporate it into the English curriculum.
"PETAA is a long-time champion of quality literature as the lynchpin for engaging children learning to read and write and has always looked to the CBCA Book of the Year Awards to assist teachers identify exemplar texts. Each year our writers create units of work with these texts because we can do so with confidence knowing they have been judged as high quality. This partnership is a demonstration and progression of our commitment to bringing that quality into the classroom," said Rapee.
President of PETAA, Associate Professor Robyn Cox further commented, "This agreement formalises a long-term strong relationship between the two associations which augers well for English literacy outcomes in primary schools."
* * * * *
View all news items