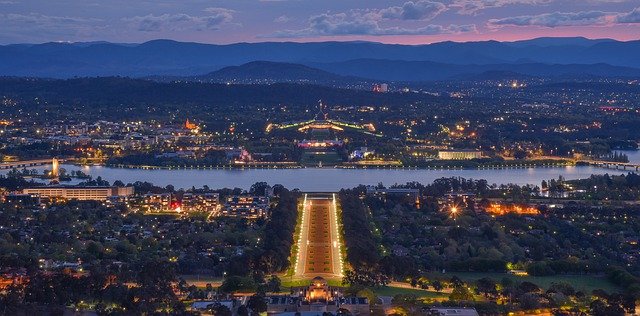 Welcome to QT, Canberra
Where culture meets politics, QT Canberra exerts a power all of its own. In the heart of New Acton, familiar names find their faces on our walls and old characters come together.
Canberra is a city of surprising quirks. QT Canberra hotel rooms give you comfort in the heart of the nation's capital. Accommodation with necessary notes of vibrancy, there's a sense of cheek that's hard not to appreciate. We're offering comfort with a capital C and an experience to keep you switched on.
We have a king room block booking for the nights of 10 to 15 June at QT Canberra, at the cost of $219.00 per night. If additional nights or different bed arrangements are needed, please contact Conference Solutions at CBCA@con-sol.com.
Terms and conditions for accommodation bookings
Before 11 May - No cancellation fees apply.
Between 11 May & 3 June – Cancellation will be subject to a fee equal to one night's accommodation.
After 3 June – Cancellation will be subject to the full accommodation cost.
Room Description
QT King rooms are kitted out with one QT Dream King Bed, designer décor and all the business savvy mod cons we know you need to get the job done. Expect a seamless technology offering and a team geared to assist you with any left-field requests. These rooms are located on levels 2-8.
---
---
Things to do in Canberra while you're here
Sunday 12 June The Haig Park Village Markets.
This market runs from 8.30 am-2 pm every Sunday in the beautiful leafy grounds of Haig Park, Braddon - moments away from Lonsdale street's boutiques and cafes.
Hosting some of the region's best, this farmers and foodie market will delight your senses with delicious cuisines, tasty treats, beautiful blooms, fresh produce, delectable charcuterie and artisan products.
It's a lovely place to enjoy a picnic whilst feasting your senses on the culinary delights on offer. Or browse the fabulous local handmade design stalls.
There is live music, an artists' table and face painting among other exciting sights for children and adults alike, stalls for your furry friend too. There is no better way to spend a Sunday!
For further information, you can visit the website or, follow the market on social media: @haigparkvillagemarkets.
National Film and Sound Archives
Australians and Hollywood: A tale of Craft, Talent and Ambition
Australians & Hollywood is a Canberra-exclusive exhibition celebrating iconic moments in contemporary Australian film and the people and stories that brought them to life.
This blockbuster exhibition features beloved cinema moments, rare behind-the-scenes footage and costumes and props from the NFSA collection on display for the first time.
Book your tickets in advance online to get up close with personal treasures from some of Australia's most celebrated creatives in cinema, including Eric Bana, Paul Hogan, Baz Luhrmann and Catherine Martin, David Michôd, George Miller, Norma Moriceau, Mia Wasikowska, and more.
Discover the creativity and craft that goes into making a classic. Highlights include the customised steering wheels from Mad Max: Fury Road (George Miller, 2015), spectacular costumes from Moulin Rouge! (Baz Luhrmann, 2001) and The Sapphires (Wayne Blair, 2012) plus Baz Luhrmann and Catherine Martin's art concept books for Romeo + Juliet (Baz Luhrmann, 1996) and the clapperboard from the 2021 sci-fi epic, Dune (Denis Villeneuve 2021).
Bring your smartphone to access Spotlight, a free digital exhibition companion experience. With Spotlight, you can discover and collect bonus exhibition content to take home and explore.
National Portrait Gallery
Join the National Portrait Gallery for a free 30-minute, guided tour of the collection and building. You might find out something about the architect's shoulders too.
Bookings essential, limited places.
Shakespeare to Winehouse: Icons from the National Portrait Gallery, London
From Shakespeare to Winehouse, Darwin to Dickens, the Beatles, Brontë sisters and Beckham, the National Portrait Gallery, London holds the world's most extensive collection of portraits. While they undergo the largest renovation of their building in 125 years, the National Portrait Gallery in Canberra is thrilled to show over 80 London treasures for an exclusive exhibition in 2022!
Visit famous faces from the sixteenth century to today. Think Mandela, Malala, Churchill, Diana, Bowie, Sheeran, Westwood and more! And iconic artists like Warhol, Hockney, Emin, van Dyck, Rubens and Freud. There'll be fame, power, love, loss, innovation and the downright inspirational.
So while London's calling, get your dose of Camden in Canberra and stay with our friends at Midnight Hotel Autograph Collection. Get some bo-peep (sleep) and save bread and honey (money) with their Shakespeare to Winehouse accommodation package that's fit for a royal! (Details on the National Portrait Gallery website.)
This really is a rare, once-in-a-generation opportunity – showing exclusively at the National Portrait Gallery in Canberra.
Tickets required.
National Library – Treasures Gallery
Circus: Roll Up, Roll Up!
Run away and join the circus at our new exhibition in the Treasures Gallery.
For more than a century, the circus has been a feature of the Australian entertainment industry, particularly in rural and regional Australia. Take a look at how this sector has changed over time, from early beginnings of travelling sideshows, through to the rise of the contemporary circus.
Early touring circuses featured 'Wild West' feats of horsemanship, music hall traditions of clowning, and displays of wild and exotic animals. From the 1960s, the focus shifted to performances of human physicality and storytelling, with modern circuses engaged with formal in circus arts training, and partnering internationally to progress the artform.
This exhibition features posters, images and memorabilia from the Vivian James Carter Collection. With a passion for circuses and carnivals, Vivian James Carter amassed a collection that documents the circus industry across the twentieth century.
Circus: Roll up, Roll up! was curated by Karen Schamberger and is open daily, 9am to 5pm.
Free and no bookings are required.
On Stage: Spotlight on our Performing Arts
A new exhibition brings Australia's performing arts history into the limelight, from theatre, opera and dance to musicals, magic and hip hop. Exclusive to Canberra.
Free event.
National Museum of Australia
Connection: Songlines from Australia's First Peoples
A spectacular immersive experience using light and sound technology to transform original artworks into an interactive celebration of Country, Culture and Community.
Ticketed event.
Decoded: 75 years of the Australian Signals Directorate.
Find out if you have what it takes to be a cyber security operative. A free exhibition at the National Museum of Australia from includes an Enigma cypher machine, codebooks, and decrypted messages. You will hear personal stories from experts who collect, decrypt, and analyse information to protect all Australians.
Free event, unticketed.
National Gallery of Australia
Know My Name: Australian Women Artists 1900 to Now
This exhibition showcases art made by women. Drawn from the National Gallery's collection and loans from across Australia, it is one of the most comprehensive presentations of art by women assembled in this country to date.
Free event, book tickets.
Tuff Nutterz Canberra - Australia's Largest Inflatable Obstacle Course
Outdoors in the Parliamentary Triangle and measuring almost 300 square metres, this supersize inflatable maze is packed with 30 fun and challenging obstacles to complete, including huge slides, climbing walls, hanging rails, balance balls and more!
Their excellent set-up includes Australia's largest inflatable obstacle course, child-friendly music and huge dome tents for shade, providing a fun and comfortable environment for families to share a meaningful experience. Tickets can be purchased at the door, but booking preferred. Each U5 ticket includes a free parent ticket.